Intensive Pulse Light (IPL)
IPL stands for intense pulsed light. It's a type of light therapy used to treat wrinkles, spots, and unwanted hair.
You can use IPL to minimize or remove:
age spots
sun damage
freckles
birthmarks
varicose veins
broken blood vessels on your face
rosacea
hair on your face, neck, back, chest, legs, underarms, or bikini line
The difference between IPL and laser treatment: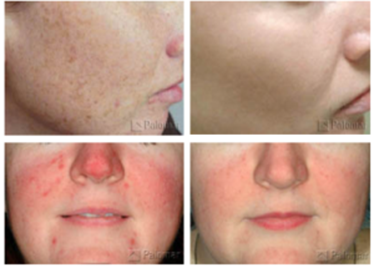 IPL is similar to a laser treatment. However, a laser focuses just one wavelength of light at your skin, while IPL releases light of many different wavelengths, like a photo flash.
Pigment cells in your skin absorb the light energy, which is converted into heat. The heat destroys the unwanted pigment to clear up freckles and other spots. Or, it destroys the hair follicle to prevent the hair from growing again.
You can use IPL anywhere on your body, but it may not work as well on uneven areas. It isn't recommended for people who tend to get thick, raised keloid scars or who have darker skin tones. It's also not as effective on light-colored hair as it is on darker hair.
You should avoid:
direct sunlight
tanning beds
waxing
chemical peels
collagen injections
drugs that increase your bleeding risk, such as aspirin (Ecotrin) and ibuprofen(Advil)
creams or other products that contain vitamin A, such as RetinA, or glycolic acid
Price: Starts from $129/treatment