A facial is a family of skin care treatments for the face, including steam, exfoliation, extraction, creams, lotions, facial masks, peels, and massage.
Put your best face forward with one of our facial treatment. Our experienced estheticians, combined with the best products and cutting-edge technologies, bring out the radiant skin we all want to show! All therapies are customizable to your skin type and needs. Don't know which one to pick? No problem. Our team is happy to provide complimentary consultations!
Custom/Mini Facial: A quick hydrating facial consisting of cleansing, exfoliation with steam, serum application and mask application. The products are customized according to clients need and you leave feeling fresh and hydrated. This mini facial offers no extractions so it is ideal for an instant glow before a special occasion.
Actions: Exfoliates, hydrates, stimulates circulation, brightens, nourishes, boosts cell turnover
Price: $69/1 Treatment, $150/3 Treatments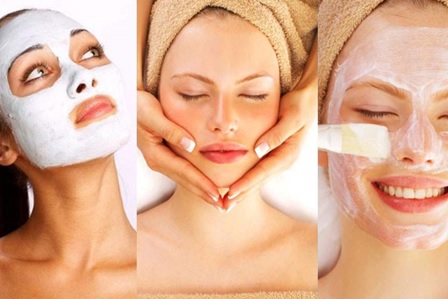 Deep Pore Facial: Completely pampering and thoroughly rebalancing, this combination of our deep-pore cleansing facial will leave you glowing and in completely refreshed. Tailored to treat skin concerns such as skin congestion, lack of radiance, skin sensitivity, fine lines, and loss of firmness. You will enjoy a deep pore cleansing, exfoliation and extractions. An excellent treatment for all skin types.
Price: $129/1 Treatment, $299/3 Treatments
Anti-Aging Facial: Our tightening, toning Anti-Aging Facial treatment infuses skin with a veil of collagen, cellular complexes, amino acids, vitamins and natural oils to help increase moisture level and minimize the appearance of fine lines and wrinkles. Feel refreshed and renewed!
Price: $150/1 Treatment, $349/3 Treatments
Price Starting from $150/treatment
Acne Facial Treatments: If you have acne-prone skin, getting regular facial treatments can mean the difference between clear skin and a troubled complexion. Our skilled medical estheticians specialize in treating and clearing acne blemishes with their expert combinations of treatments in our signature medical facials. Depending on your skin type, our licensed estheticians will perform a few of the following treatments on you during our medical facials: steaming, deep cleaning, chemical peels, microdermabrasion and extractions. Medical facials do an unparalleled job at cleansing the skin, which helps to rid the pores of debris caught deep within. The extractions will rid of active acne lesions and help prevent you from trying to pop your pimples on your own (a huge no-no!).
Back Facials: Why get a Back Facial?
Whether you're a male or female, it is desirable to have a back which you can show off in swim wear on the beach, a great night out in a low back dress, or intimately with your loved one in private. If you spend a lot of time in low-backed clothing or swimsuit, then back facial treatments is actually quite important and necessary.
The back is like the skin on our face, pores on the back can get clogged with oils and bacteria and thus, allow for black heads, white heads and pimples or acne to be formed. Like other facials, having a back facial is relaxing. It is a way of exfoliating an area that you cannot get to on your own. Both men and women enjoy back facial to combat acne. A back facial is good even if you do not suffer from back acne, it will exfoliate the dead skin and deep moisturize.
Price: $199/1 Treatment, $449/3 Treatments